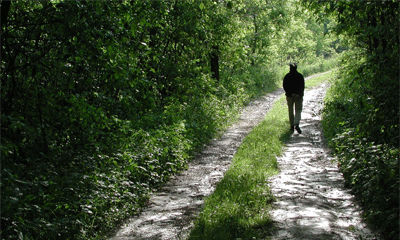 I hold it true, whate'er befall;
I feel it, when I sorrow most;
'Tis better to have loved and lost
Than never to have loved at all.
~ Alfred Lord Tennyson

Is it really true that it is "better to have loved and lost then never to have loved"? You will get different answers to that question depending on whom you ask. But one thing is certain, at the moment you are saying goodbye, when the pain is so bad, many will say, "NO! I wish I never met them! This pain is too much to bare." If you are in this situation, take heart and know, that one day in the future, you too may say, "It is better to have loved and lost then never to have loved."

By Joshua Wayne Farmer
I am nineteen years old and I live in Wichita, Kansas. I have a broken mentality in which I use in my writing. Each poem takes approximately a half hour to an hour. I seek my weaknesses, develop my weaknesses into strengths, and then develop my strengths into hobbies; showing the world that anyone is capable of achieving anything they set their minds on. "The Impossible is ignorance. If you do not know, do not say it cannot be done." - JimmyJosh Farmer
Holding my hand, lying in my lap,
Calling me closer, tightening her grasp.
Her face in the sand, water cold and black,
Reveling her last words, and never coming back.
Enraged, I cry. Heartbroken and sad.
I want her in my arms. I want her real bad.
As my tears escape, holding her embraced;
It will never be the same. Only in memory she will remain.
Visions of her play, as the sky becomes grey.
In life, I am a slave. I love, and death takes away.
I cry out her name, as the clouds begin to rain.
Keeping her close, and suffering intense mental strain.
A burial is absurd. No option to burn.
Her soul may be gone, but I will not leave her.
Her voice fills my mind, repeating the pain.
Without her by my side, how could I be sane?
Her colors begin to fade, as the night ends the day.
The wind begins to breeze from the darkened sea.
I take her to the water, missing her every step.
I sink down right beside her, lying until death.
I did not want to leave her. She was my only love.
I could not live without her, departing up above.
Although she cannot see me now, I watch her in the light.
I lost my life beside my wife, the night she said goodbye.
Rate, Comment, Share - Go To Poem Page


By Krista Hood
Why do we Love when it hurts?
Love… it comes with the highest cost…pain.
To love means to hurt, to feel sorrow and the constant struggle
It attacks from every angle, feigning for tears and heartache.
Fools fall in love, for they willingly submit themselves to despair,

Why do we love?
Why do we choose to believe in something that mocks every emotion?
Is it fear itself, or human nature, survival instinct?
Will science discover the reasoning for such insanity?
Of all the worlds' mysteries, love remains unsolved.

I am in love,
I am in pain,
I have drained all hope
Diminished all optimism for love,
to drown in my own tears, alone

Why do we love, more importantly…why do I?
Am I scared to be alone, or am I trapped in sick game destined for failure?
Do I enjoy pain, the taste of the salt on my tears.
Or simply is it the desire to feel something magical.

I am lost, I am alone
I feel as if every gesture is unwanted, unnoticed
My sadness consumes me, yet…
I persist, I keep trying,
To control the very demon that steals life from my beating heart,
Love, is the devils' game, and I am but a slave to its trickery.
Rate, Comment, Share - Go To Poem Page


By Efi Gialia
In this poem there are everything I wanted to say to him..but I never did..because I was the one who felt something big..but he felt nothing...
Don't talk anymore my love.
Just look at me
and you will understand how I feel..
Look deep in my eyes
and you'll see your name,
my soul's broken mirror.
I love you more than you believe,
like you are my life,
my other half,
my subconscious guardian angel.
Look around you.
Has anyone loved you more than I do?
Never cry my love.
cause you'll make me bleed.
Always be happy
for your smile is a source of life for me.
I breathe when you breathe.

But forgive me
for what I say.
I know you feel nothing.
For you I'm just a game
that you played with once
and know you hate
even to look at.
I'm sorry for my feelings.
I know they drown you,
they don't set you free.

Come and tell you hate me.
That there's no other chance,
no fake hope!
Don't show me but tell me.
And then I will leave you.
I swear I will
You, my endless pain.
It's not your fault.
I can't blame you.
It's me who loves you.
Tell me the truth,
and you'll never see your name written in my eyes.
Cause I'll keep our past and my love
in the bottom of my heart
and I'll be gone …;
Rate, Comment, Share - Go To Poem Page


By Bib
true story, to me he was perfect.
If only you knew
How much I love you
Maybe then
You would feel that way too

But I can see it now
I know what you'd say
"I'm not the one for you…
I don't like you that way."

And when I'd see your lips moving
To say this to me
I know hearing it will hurt
But you're all that I need

We've drifted apart
But my love has stayed strong
Believe me I've tried…
But I cant move on

I've watched you grow
Into the young man I knew you'd be
We grew up together
Now do you remember me ?

I know you will never look at me
The same way you used to
And I know you will never say the things
That we both believed were once true.

We've gone our separate ways
Travelling on a different track
Just know I will never forget you
Now tell me you won't forget me back

We shared our experiences
First kisses and first dates
But to you I'm just part of the past
Childhood days…

So I'm just making sure
That you know how I have felt for a while
And in case you didn't know
I would die for you Kyle…

I will always love you.
Rate, Comment, Share - Go To Poem Page


By Myrtle Glo Oliquino
Just a poem I was able to come up with when I know I was supposed to let go of my boyfriend even though I still love him so much...
Let me look at you in the eyes just for this day
Let me hear every thought you have for today
And as I slowly sink in to your mind,
May I, the deepest emotions in you, find.

Let me watch every little thing that you do today
The smile, the wrinkle in those eyes while you look my way
Let me feel the joy of being with you once again
And cherish each precious moment while we still can.

Let me hug you tightly one last time just for this day
And feel my heart beat for you as we gently sway
With the soft music that only our hearts can hear,
Hold me tight so I could somehow forget all my fears.

Let me touch your face softly with my hands this way
As I softly whisper in your ears how you make my day
Watch me close my eyes as teardrops start to fall,
And know that through these years, you are still my all.

Let me feel your hands along with mine lastly for today
Let no one else distract us nor ever get in our way
As I tell you gently how much you've always meant to me
And break down as I whisper that we could never be.
Rate, Comment, Share - Go To Poem Page


By Norm Steveson
I wrote this poem to my ex. after being together for 16 years. I speak from my heart. And all the pain that I held inside. It has been a very dark two years. there are many more that I wrote, but I feel this one really speaks from my heart
As I lay here in the dark,
you are there in my heart.

For there I see you in the light,
And for awhile all is right.

For I see the love we once had,
All Is gone and now I am sad.

I see no room in your heart,
as I lay here in the dark.

I look to the stars above,
and all I see is the love.

I lay here all alone,
as I write this little poem.

I look back on all the years,
and recall all the tears.

I know just right where I stand,
Right there in your hand.

As the night slowly goes by,
all I can do is silently cry.

I see the light of the day,
and life goes on as it may.

I hold the pain all inside,
Wishing I had only died.

As I go though this dreary day,
I can only think of what I forgot to say.

For my wish and is true,
is love only for you.

The candle was lit,
only for a bit.

For now is the time I must tell you,
I am sorry but you have to go.

Search your heart and you will see,
that you must let go of me.

As I lay in the dark,
you still do your sweet part.

It is not all what it seems,
because you are always in my dreams.

So fly away and spread your wings,
after all I am just a little thing.
Rate, Comment, Share - Go To Poem Page


By Shelbi
I miss the time where we could stare into each others eyes, and not have an awkward moment...
One gun, one bullet, one shot, one miss
Our love, our hug, our song, our kiss
My tears, my hurt, my pain, your bliss

I hope you will remember this
That day I cried, when you left me
the tears filled my eyes, and I couldn't see
but most of all I couldn't believe
That It was true, you finally left me

I loved you so much
I just wanted to be with you,
I would stay by your side, through anything
Wait for you by the phone, wait for it to ring
And when it does it won't be you
Besides to you,
Our love was never true,
so I'm sorry you don't love me,
and I'm sorry you don't care
But even though you've broken my heart,
and viciously torn my world apart,
I'll be there for you,
Through everything,
And I'll still wait by the phone,
waiting for it to ring,
And when it's not you,
I might just let go,
And hope one day you will soon see that maybe,
just maybe,
we were meant to be
Rate, Comment, Share - Go To Poem Page


By Amanda Trevino
I wrote this poems because most people want to remember all the good things in their relationship and forget all the bad things. So I decided to write about forgetting all the goods things and remembering all the bad things
Forget the one that you once knew,
Remember that he left you.
Forget the way he played your song,
Remember that you cry all night long.
Forget the way you memorized his walk,
Remember that he is not there to talk.
Forget the things he use to say,
Remember he has gone away.
Forget the way he held your hand,
Remember you could barely stand.
Forget the way he took away your fears,
Remember nothing could stop your tears.
Forget how you wanted him forever,
Remember he said he loved you never.
Forget the way he held you tight,
Remember you are all alone tonight.
Forget the time that went so fast,
Remember the love has left its past.
Forget he said he'd leave you never,
Remember he is gone forever.
Rate, Comment, Share - Go To Poem Page


By Nathan Dunkle
This is a poem about my wife leaving me and how I feel about it.
I wake up each morning, Its like I'm in Hell.
My mind races fast, who can I tell?

I feel the pain, it will not subside,
see deep down inside, it feels like I've died.

A piece of me is missing, all I can see,
is darkness and black, surrounding me.

I have not forgotten, all of the pain,
sometimes it feels like I'm going insane.

I hold on to this love, so very tight
I can't give up, can't let it out of my sight.

I try to move on, I really do
but I just can't, cause I still love you.

Please love, open your eyes and see,
No one can love you as much as me.

I gave you my heart, my whole life,
you took them both and became my wife.

We promised to love, to have, to hold
together forever, even after we're old.

but you walked out, left me for dead,
now all I have left, is a cold empty bed.

I lay down each night, praying I might,
wake up to my love, holding me tight.

My broken heart speaks, its hurts so bad,
my life goes on, I live but I am so sad.

To My Wife, My Soulmate, My best friend...
Rate, Comment, Share - Go To Poem Page


By Lucey
I really loved this girl she broke my heart, she drank one night and kept telling me she loved me. I have had enough of it now. I can't just sit here and wait for her I need to move on. I am so sorry.
I know you'll never love me,
and that why I cried
I'll never feel your hand in mine,
or even hear your softly sigh.
I know you'll never miss me,
or even notice I'm gone.
to me you're somebody,
but to you I am nobody.
I know you'll never cry for me,
like the way I cried for you .
I know you'll never want me,
so what can I do ?
I know you'll never think of me,
I'll never cross your mind.
you never had a thought of me,
I'd always take the time.
I know you'll never look for me,
like that way I looked for you.
each face you see is different ,
each girl I seen was you .
I know you'll never lose your heart,
like the way I lost mine.
they say times the greats healer,
but I have no time.
I know you'll never love me,
and that's why I cried.
although my body is living,
my heart is bound to die .
I know you'll never love me,
like I loved you
Rate, Comment, Share - Go To Poem Page