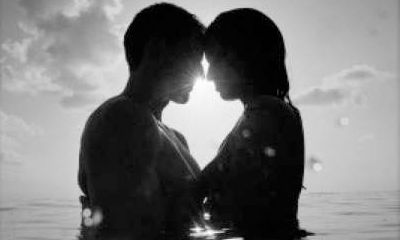 How does a couple continue to kindle the spark of romance after years of marriage? Couples have always struggled with this. What is the definition of romance? Any act that helps a couple feel that they are more than roommates and that reminds them of the special feelings that they hold for each other deep inside is a romantic gesture. Feelings of love are often hiding just below the surface. All it takes to bring these thoughts out is some thought about what will make your partner feel loved and sexy.

By April Quinlan
I wrote this poem for my loving Husband, CJ, for Valentines Day, and I think it says it all.
Our souls were one when time began.
When God was busy creating both earth and man.

Then came the day He tore us apart,
Forever making us, each others, "split apart".

He chiseled your name upon my heart,
Before sending us down for our lives to start.

Years would go by and the hour grow late,
Destiny beaconed and called upon fate.

Life came full circle for our two souls to meet.
We take not for granted this miraculous feat.

For God had a plan at the beginning of time,
That would bring our hearts together rejoining your soul and mine.

Once what was one, was made into two.
I know in my heart, I'm not complete without you.

Now what was made two, has again become one.
Just as we were even before time begun.

--April M. Quinlan
Happy Valentines Day CJ
February 2011
Rate, Comment, Share - Go To Poem Page

This poem is just one of the many inspirations that came from this love that should not be.
When you asked me what it is about you,
I couldn't tell you why.
It has taken me till now to discover,
Why you make me feel so high.

It took a glance from you,
Hypnotic are your eyes.
Now I don't want to be without you,
Feel like you could tell me no lies.

One soft smooth touch,
Then your voice in my ear.
I am powerless against your spells,
Don't say things you think I want to hear.

I tried to resist it,
Pushed you away.
I am spoken for,
And feel I have to stay.

Trapped when you hold me,
Tight in your arms.
Kiss my lips gently now
Use all of those charms.

From that first smile,
Which seduced my soul.
All this passion is now,
Out of my control.

I will savor every taste of you;
Love to bite your lips.
I lust to grind on you,
Quick moving of my hips.

You take me to places,
I am sure I have never been.
All you have to do,
Is move your hungry hands over my skin.

While memories of our time,
Drifting through my mind.
Brings out things in me,
I didn't think I'd find.

Is this inspiration in my heart,
Why we are put here to live?
Or is it only the temptation from your voodoo,
Forcing me to give?

If this were not meant to be,
Could you please tell me why?
The thought of you not in my world,
Makes me want to cry.

They say opposites attract,
Speaking of our signs.
The Venus moon is upon us now,
Taurus sure to fall for Scorpios lines.

Read again carefully,
For these are tender words you shouldn't miss.
I have opened up to you here,
Then sealed it with a kiss.
Rate, Comment, Share - Go To Poem Page

I wrote this poem for my fiancé. I was a single mother when he met me and he has turned out to be the love of my life.
We have been through so much,
And time just seems to fly.
Yet I can happily still smile,
And say that you are mine.
In the time that we had met,
I had a broken heart.
I was a single mother of one,
That had been pushed and pulled apart.
I never though in my wildest dreams,
That I could love again.
You smiled at me just one time,
Then my heart started to mend.

You took away all my fears,
You threw them to the past.
You gave me hope and inspiration,
You showed me love could last.
The way you love my son and I,
Just makes me want to cry.
I love the way you sing to me,
And that sparkle in your eyes.
You are the only one I want,
So hold me through the night.
I do hope that someday soon,
You can call me your wife.
Rate, Comment, Share - Go To Poem Page

This is something I just frestyled if you guys like this I'll put some of my better work on here (:
Within your soul, Lies the heaven made for me
Within your heart, Lies the love I've always seeked
Within your eyes, Lies all the beauty of the night
Within your kiss, all doubt takes flight
See, I am yours and you are mine
Our love grows great as our souls intertwine
I'd conquer hell and heaven, to hold your hand
I'd stop time so that you may understand,
how much you mean to me,
My Celestial Lily
Rate, Comment, Share - Go To Poem Page

Nikhil Parekh, 34 years of age, from Ahmedabad, India– is a Love Poet and Eight-time World Record holder with the Limca Book of Records India (Only 2nd in Official World Rankings to Guinness Book of World Records) for his poetry.
You're the answer to all my riddles in life;
miraculously healing all my traumatized agonies; with
the insatiable magic in your voice,

You're the voice that makes me celestially rest;
shrugging all my frazzled vagaries into non-existent
wisps of oblivion,

You're a mountain of invincible strength that I needed
when I disdainfully collapsed; incessantly inspiring
me to add vibrant dimensions to every tomorrow that
blissfully unfurls,

You're an incredulous magical wand; that metamorphoses
all my staggering impossible's; into the winds of
irrefutably blazing triumph,

You're a cloud of innocent angels; that always made me
feel I was that euphorically bouncing child once
again; even as I treacherously slipped towards the
corridors of extinction,

You're a bountiful paradise of newness; triggering me
to indefatigably fantasize all brilliant day; and even
while embracing the mists of diabolical midnight,

You're an idol of astoundingly philanthropic
benevolence; instilling in me the indispensable
ingredients of everlasting mankind,

You're a river of perpetual harmony that cascaded past
my window; making me wholesomely bask in the
stupendous glory of natures mystical endowment,

You're a bow of astronomical courage; relentlessly
transpiring me to unflinchingly fight for my
ruthlessly incarcerated tribe,

You're a marvelously glistening shore that harbors all
impoverished in your compassionate warmth; teaching me
to forever salute the immortal religion of humanity,

You're a fountain of divinely peace; bestowing my
famished existence; with pearls of royal wisdom and
unconquerable unity,

You're a tantalizing seductress dancing in the aisles
of untamed desire; compelling me to take an infinite
births; as every minute unveiled into delightfully
charismatic light,

You're a rainbow of vivaciously versatile diversity;
propelling me to intransigently discover and explore;
the unfathomably wonderful beauty of this sacrosanct
planet,

You're an Omnipotent flame of never-ending hope;
enlightening each aspect of my depravingly sinister
existence; with the stupendous optimism of your
heavenly stride,

You're a magnanimous reflection of poignant empathy;
wonderfully pacifying the devastated rebel in my
veins; with the benign smile on your majestic lips,

You're an enigmatic tunnel of unbelievable
enthrallment; that never lets me exhaust in my
conquest for success; fomenting me to plunge every
instant; into the valley of unsurpassable adventure,

You're an epitome of beautifully revered sharing;
nourishing each element of my lecherously debilitated
existence; with the passion in your godly soul,

You're a township that keeps proliferating into
newness all the time; massacring even the most
inconspicuous trace of rust; frustration;
dilapidation; from my penurious life,

Over and above all; you're the girl whom I have not
just simply loved; but an Omniscient messiah who was
my breath; my body; my blood; every time God had
granted me life on this earth .
Rate, Comment, Share - Go To Poem Page

I haven't written in 5 years, but this woman has opened a great door. I hope you enjoy and feel what I feel.
So close, yet so far away
Don't know if I can stand another day
I long to hold your mesmerizing face
And on my lips, your kiss I taste

You've got me trapped in a box of wonder
Our bodies together, no matter who is under
I need you now, I need you quick
I need you fast, to get my fix

I desire to know you in every detail
Give me this chance, my heart will not fail
Life is a trial, that's never ending
But together is time we could be spending

I barely know you, its happened so rapid
And to you this may seem a little drastic
I have to reveal, can't hold it any longer
You've got me trapped in a box of wonder

Out destinies could intertwine forever
Girl just come to me, it's now or never
Think of the happiness that's yet to be
If you would surrender your heart to me
Rate, Comment, Share - Go To Poem Page

I wrote this poems when I had felt I had found true love.
TO MY EVERYTHING
There are so many words used everyday. Said just in passing, said for conversation, said for ease.
But When I Say:
When I Say I'm sorry, I don't say it to make life easy, I say it for your forgiveness.
When I say I need you, I don't say it to make you feel worthy, I say it because I can't make it without you.
When I say you hurt me, I don't say it to make you feel bad, I say it because it feels like my hearts being mislead.
When I say I miss you, I don't say it to make you feel wanted, I say it because part of my soul is missing when your gone.
When I say I Love you, I don't say it with habit, I say it with everything that I am.
I LOVE YOU,
Yours, Shanna
Rate, Comment, Share - Go To Poem Page

from the day we met,
God has grown closer to me
indefinitely.

from the day we met,
past pain doesn't feel so bad;
smiles have replaced tears.

from the day we met,
"more than I ever prayed for"
is how I see life.

from the day we met,
I lose myself in laughter
and love feels so good.

from the day we met,
each time I look in your eyes,
my heart skips a beat.

from the day we met,
my life hasn't been the same.
I'll never look back!
Rate, Comment, Share - Go To Poem Page

I wrote this for my girlfriend who lives two hours away at a time where she was confused about where she was in the relationship.
Your smile so beautiful as the sun that shines through on a warm sunny day
With a simple flash of that sexy smile you take my breath away
And every time I see your face
smile remembering each loving embrace

Your eyes twinkle like the stars bright in the sky
Staring deep into caring eyes leaves no questions why
I loose myself in your entrancing stare
I feel like to you my soul I could bare

Your intoxicating smell as sweet as a fully bloomed rose
Which is just one more reason why it is you that I have chose
Your familiar scent warms my heart
And will trigger fond memories if we ever have to part

Your voice is as calming as the ocean waves meeting the shore
Teaching me the meaning of feelings I never felt before
I could spend hours listening to you on the phone
Reaching a level we have only known
Rate, Comment, Share - Go To Poem Page

When I first met you I was so shy,
I couldn't even hold your hand
or kiss you good-bye.
But after a while I started falling in love with you,
And next thing I know,
I was so much attached to you....

Now every morning when I wake up
I see you lying next to me.
You are the one I cherish and love,
A blessing sent from Heaven above.

I will love you as a faithful partner should,
And do everything
for you that I could.
I would let you know everyday,
That I love you more than words can say.

I thank the Lord above
For blessing me with you,
Our relation shall never fade away,
I'll just keep on loving you ,

Every single day……
Every single day…..
Rate, Comment, Share - Go To Poem Page