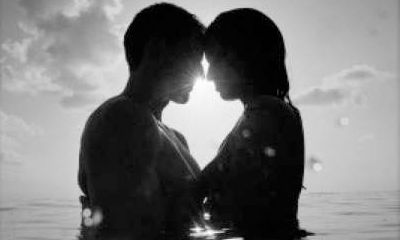 Sexy Love Poems
How does a couple continue to kindle the spark of romance after years of marriage? Couples have always struggled with this. What is the definition of romance? Any act that helps a couple feel that they are more than roommates and that reminds them of the special feelings that they hold for each other deep inside is a romantic gesture. Feelings of love are often hiding just below the surface. All it takes to bring these thoughts out is some thought about what will make your partner feel loved and sexy.

By April Quinlan
I wrote this poem for my loving Husband, CJ, for Valentines Day, and I think it says it all.
Our souls were one when time began.
When God was busy creating both earth and man.

Then came the day He tore us apart,
Forever making us, each others, "split apart".

He chiseled your name upon my heart,
Before sending us down for our lives to start.

Years would go by and the hour grow late,
Destiny beaconed and called upon fate.

Life came full circle for our two souls to meet.
We take not for granted this miraculous feat.

For God had a plan at the beginning of time,
That would bring our hearts together rejoining your soul and mine.

Once what was one, was made into two.
I know in my heart, I'm not complete without you.

Now what was made two, has again become one.
Just as we were even before time begun.

--April M. Quinlan
Happy Valentines Day CJ
February 2011
Rate, Comment, Share - Go To Poem Page

This poem is just one of the many inspirations that came from this love that should not be.
When you asked me what it is about you,
I couldn't tell you why.
It has taken me till now to discover,
Why you make me feel so high.

It took a glance from you,
Hypnotic are your eyes.
Now I don't want to be without you,
Feel like you could tell me no lies.

One soft smooth touch,
Then your voice in my ear.
I am powerless against your spells,
Don't say things you think I want to hear.

I tried to resist it,
Pushed you away.
I am spoken for,
And feel I have to stay.

Trapped when you hold me,
Tight in your arms.
Kiss my lips gently now
Use all of those charms.

From that first smile,
Which seduced my soul.
All this passion is now,
Out of my control.

I will savor every taste of you;
Love to bite your lips.
I lust to grind on you,
Quick moving of my hips.

You take me to places,
I am sure I have never been.
All you have to do,
Is move your hungry hands over my skin.

While memories of our time,
Drifting through my mind.
Brings out things in me,
I didn't think I'd find.

Is this inspiration in my heart,
Why we are put here to live?
Or is it only the temptation from your voodoo,
Forcing me to give?

If this were not meant to be,
Could you please tell me why?
The thought of you not in my world,
Makes me want to cry.

They say opposites attract,
Speaking of our signs.
The Venus moon is upon us now,
Taurus sure to fall for Scorpios lines.

Read again carefully,
For these are tender words you shouldn't miss.
I have opened up to you here,
Then sealed it with a kiss.
Rate, Comment, Share - Go To Poem Page

I wrote this poem for my fiancé. I was a single mother when he met me and he has turned out to be the love of my life.
We have been through so much,
And time just seems to fly.
Yet I can happily still smile,
And say that you are mine.
In the time that we had met,
I had a broken heart.
I was a single mother of one,
That had been pushed and pulled apart.
I never though in my wildest dreams,
That I could love again.
You smiled at me just one time,
Then my heart started to mend.

You took away all my fears,
You threw them to the past.
You gave me hope and inspiration,
You showed me love could last.
The way you love my son and I,
Just makes me want to cry.
I love the way you sing to me,
And that sparkle in your eyes.
You are the only one I want,
So hold me through the night.
I do hope that someday soon,
You can call me your wife.
Rate, Comment, Share - Go To Poem Page