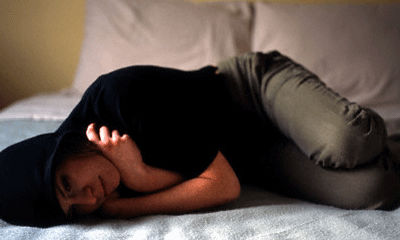 There are many issues that come up in a relationship that can be confusing. Each person has their own idea about what relationship means and it is necessary to clarify these issues. When the inevitable conflict arises, a good place to start is clarifying what each partner wants out of the relationship. The bottom line is relationships are confusing and it helps when there is good communication whether it is between lovers, friends or family.

By Kay Salady
I cannot seem to find perspective. It seems Iíve lost my point-of-view.
Your words were sweet. You were selective in choosing them. When I saw you,
I fell apart, and all the barriers that I had set came tumbling down.
My mind and heart fused together, as you and I, whirling around.
This senseless love that spins in the darkness of an eclipsed moon has gone astray,
picked up itsí light as sparks flew brightly across our sky, in such a way
that took my breath, that stopped my heartbeat, as a great light soared through the sky.
I was blinded by the white heat that took me down then raised me high.
All for your kiss, I sailed the seas and crossed the desertís arid sand.
I risked my life all for the honor, for the touch, of your sweet hand.
The aching pain of craving the luxury to rest upon my loverís chest
drove me insane as I surrendered all that I am for I am blessed
to know this love thatís all-consuming, that fills my soul beyond compare.
This fragrant rose thatís ever blooming emits a perfume that is so rare.
I inhaled you within my being; now you are sailing inside my sea.
Forever love, I will be dreaming to be with you eternally.
My star had melted into morning as the dawn sent him away.
I am alone in the bright sunlight and I canít find the words to say
how lost I am inside this vacuum. There is no color and thereís no sound.
I cannot smell your fragrant perfume. I wonder why it canít be found.
It seems Iíve lost all my perception and I am frozen in deep despair.
Iíve lost the path Iíd longed to follow. My way is you and youíre not here.
Rate, Comment, Share - Go To Poem Page

I was missing my boyfriend this night, he was out of town working.
You were on my mind when I woke up this morning.
Remembering your smile
I guess the next time I'll see your face
Might take a little while.

I was remembering your arms around me
The way they always felt warm
And having you right by my side
I completely felt no harm.

I was remembering your voice
It makes my heart skip a beat
but without you my love
my body feels so weak.

I was remembering our times
all the good and bad
the funny times you cheered me up
and especially the sad.

I was remembering your eyes
how they always meet mine
remembering all the things you do
to make my life worthwhile.

I was wondering when we'll be together
when it will be just us two
I guess I'm just missing you
more than I usually do.
Rate, Comment, Share - Go To Poem Page

I wrote this for my boyfriend who is away in prison He showed me what real love is
Each day I spent without you makes me miss you so very much
Each night I dream about you
I long to feel your touch
If I could just see your face or kiss your gentle lips
If I could only hear your voice
All these little things I miss
So I just want you to know
There's nothing I wouldn't do
If I could just once again Be With You
Rate, Comment, Share - Go To Poem Page

My name is Janet Lee Cowell. I live in Arkansas. I was born in Oregon. I have 3 living children. I have a son that died in December. Losing a child is so hard. He was just 37. A great person. I have 11 grandchildren. I will be 55 April 2nd
I Miss Your Laugh
I Miss Your Smile,
I Haven't Seen You For Awhile.
I Miss Your Eyes;
I Miss Your Lips.
I Miss The Touch Of Your Fingertips
I Miss All The Things We Use To Do.
But Most Of All I Just Miss You....
Rate, Comment, Share - Go To Poem Page

I was inspired to write this when visiting a place we had been together. It stirred some lovely memories.
I sit on our hill
There is silence, except for the breath of the world
It caresses the leaves softly
Tenuously, as I imagine my hand would touch your face

It stirs dormant memories
Precious baubles fill my consciousness
A smile, a laugh, a caress, a scent
Your touch, your embrace, your kiss

The Autumn sun warms my face
Awakens me
As I walk away, eyes closed
I can feel your hand in mine
Rate, Comment, Share - Go To Poem Page

the sound of silence grows,
every minute feels like a hour,
every hour feels like a day,
as I sit in in the cold light of morning;

its far too late, too late
to pick up my heart from the floor,
as it lay in pieces,
right where you threw it yesterday night;

little by little,
strangers became friends,
friends became lovers,
and suddenly, lovers became strangers;

I am lying here,
lying next to where you left me in pieces,
canít move, canít scream,
with only silence for company;

the tick tock of the clock and,
the beat of my heart grows louder and louder,
shrouded by a mystery,
I feel so alone;

as the melody of love fades into the distance,
the screams of silence is all that remains,
lost in the shadows of life,
I am here, Alone, in a crowded room!
Rate, Comment, Share - Go To Poem Page

Soon, I'll feel your warm and loving touch, the softness of your lips will fall upon my face, I just know that Someday Soon, You and I will be together.
Someday soon, I'll feel the softness of your skin.
I'll see your beautiful eyes, and your sweet smile.
The sound of your voice, will be the music to my ears,
as will your words, I long to hear.

Someday soon, I'll smell your sweet perfume,
You really will be here... It won't be just a dream...
I can't wait for that day,
To open my heart to you...

Soon, I'll feel your warm and loving touch,
the softness of your lips will fall upon my face,
I just know that Someday Soon,
You and I will be together.

Love always, forever my love!
Rate, Comment, Share - Go To Poem Page

Heather Grace Stewart is the author of the poetry collections 'Where the Butterflies Go,' 'Leap,' and 'Carry On Dancing'.
When Iím missing you,
I walk to the riverís edge.
Frozen or free-flowing,
it soothes me;
sends me back to our small adventures.
Stargazing. Fireflies.
All-day swimming.
Long goodbyes.
No matter how cold it is outside,
our summers warm me,
and weíre together again.
Rate, Comment, Share - Go To Poem Page

This poem I wrote was to express how much I miss the love of my life.
Sitting alone under the stars so bright,
I wish you were here holding me tight.
Everyday without you feels like eternity,
I wish the day will come that you can be with me.
I miss your touch, your embrace, your smell,
Why am I in this hole, my personal hell.
I miss you so much I can't help to cry,
So much loneliness I'm about to die.
The memories we shared all seems but a dream,
But then I remember your sweetest word,
That you love me and need me, I start to scream.
My love please come back I need your breath,
I will love you forever even after death.
Rate, Comment, Share - Go To Poem Page

It seem as if he doesn't care she was leaving but it was really because he can't bear to wake up and find her gone.
I know you must wake
and go to work,
but do this for me:
go quietly as you can.

I am selfish and
I do not want to be
disturbed by your leaving.

Dress with the lights off,
underwear and blouse,
the black skirt you laid
on the dresser last night.

Your heels are beside
the door, your earrings
in the bowl with your
car keys. Go quietly.

I am selfish and
know Iíll wake up
and find you gone.

I would like to put
that off as long as
possible.
Rate, Comment, Share - Go To Poem Page