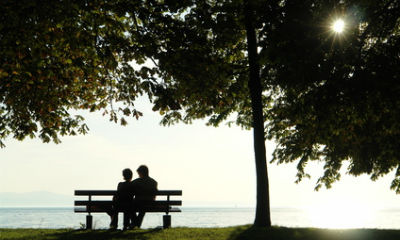 Lovers who are friends are more then lovers. This is about two people that will do anything for each other. The relationship has passed almost into the realm of a blood relative. Lucky are those who have developed such friendships. They should be as careful with them as if they are handling the most delicate of things. These relationships are rare and only exist between people who have an inherent soul connection. There are few people lucky enough to form this kind of relationship.

By Yazmine
I wrote this poem when I fell in love with one of my friends.
I never really knew you,
You were just another friend.
But when I got to know you,
I let my heart unbend.
I couldn't help past memories,
that would only make me cry.
I had to forget my first love,
and give love another try.
So I've fallen in love with you,
and I'll never let you go.
I love you more than anyone,
I just had to let you know.
And if you ever wonder why,
I don't know what I'd say.
But I'll never stop loving you,
each and every day.
My feelings for you will never change,
just know my feelings are true.
Just remember one thing,
I Love You!!!
Rate, Comment, Share - Go To Poem Page


By Cameron
I wrote this poem when thinking of the person that I love most.. and after reading the special one she made and read to me
You changed my world in the blink of an eye
That is something I cannot deny
You changed me from the worst to best
That is why I treasure you
You just don't know what you have done for me
You even pushed me to the extreme
You are an angel sent from above
For me to take care of and shower with love

When I'm with you I cry not a single tear
And your touches have chased away all of my fear
You have given me a life that I could live worthwhile
It is even better everytime that I make you smile

It so magical those memories we've made
To bring back my sadness that always fade
Now my life is a dream come true
It all began when I laid my eyes upon you

Now I have found what I am looking for
It's you and your love and nothing more
You always have me going back to you and walking
I ask myself how we every got to talking
In my body my heart still may melt
In my life something I've never felt

I wish I could talk 'till the end of day
But now I'm running out of things to say
So I'll end by the line you already know
"I LOVE YOU" more than what I could show.
Rate, Comment, Share - Go To Poem Page

This was a True story in my life, my bestfriend told me she loved me, and I was in love with her for years, and finally got to admit my love for her, it was the best feeling in the whole world.
The first time you said "I love you",
My heart started beating like a drum,
My ears started ringing,
I can't believe what I've just heard,
What I've just witnessed,
Our love is finally showing,
This is one of those moments,
where you completely took my breathe away,
But I managed to say,
"I love you too".
Rate, Comment, Share - Go To Poem Page

I have know this man for a long time, We tried to date before but somewhere in time it kind of went wrong. Who would have ever guessed he would be the one, to show me life is a weird journey but it gets better if you have the correct company. He doesn't really know I feel this way. I'm so thankful he came back into my life, because I would have never known how wonderful he truly is.
Every time I look you, I canít help and wonder,
Why I couldnít have known you when I was a bit younger.

I guess good things come with time
I never thought you would ever be mine.

The first day our eyes met,
We both knew it was not the right time just yet.

I did not get to see you for a while,
But you had me with just one smile.

Who would have ever guessed, I was ever going feel this way,
It was just the other day I could not figure out if I wanted to stay.

Every time you hold me tight,
I know everything is going to be alright.

No matter how far apart we might be,
I know your thoughts include me.

You complete me in every way,
And I pray to God you never go away.
Rate, Comment, Share - Go To Poem Page

True friends can turn into true lovers, most women love to say, friends first, this poem talks of just that. It's a wonderful thing to be friends first, then, lovers!
You were just another true friend,
Time went on, our friendship got closer.
My feelings caught fire. You took me all in,
Now, we're truly wrapped together. yes we are.

You made me forget, my true past love,
I gave this love, another try with you.
Now, I've fallen, madly in love,
feelings I feel, moments are real. Here to stay!

My love, my friend, it started right here,
True friends we were, love creeping right in.
I love you now, you have no choice,
My feelings for you, can't be undone.

Just know my feelings are pure and true,
Just remember one thing, I will always love you
Rate, Comment, Share - Go To Poem Page

Friends and friendship are the two things we can't live without, it is the glue that keep our lives together, true friends are for ever, you can be my friend!
We have something, that holds us tight,
Something we like and treasure together.
Something called, being a friend,
we have blended, nice and tight.

We can't be undone, that's the way it is,
We're going through this life, side-by-side.
Nothing, or, no one, can come between us,
this is the way it will be, we agree.

I really want for you to know,
even though, we are so far apart,
I'll never stop being your friend.
This is the way it will be, I know.

And, you're my one and only true friend,
That's here to stand, by my side.
With lots of love, you give to me,
remember this, at every time, you are my friend!
Rate, Comment, Share - Go To Poem Page

Your lover can't read your mind, let him/her know you are thinking about them and how often, give them that confidence in you and show them that you will always do all in your power to make them happy and be there for them.
I'm always thinking of you, thatís nothing new,
I thought of you, just yesterday, the day before that too.
For every day, good or bad, you're always on my mind,
I hope you understand, the way I feel inside.

This isn't just a joke, or a silly lie,
Iíd never do anything, to make you cry.
Iím sorry, have I done anything, you don't really like?
it only returns and make me sad.

I really do love, everything about you,
I hope this relationship, gets really far.
Iíll never leave you, It's not on my mind,
in fact Iím thinking, of you right now.

Youíre everything I need and everything to me,
you're exactly who I want, in every way.
You always make me smile, it's nothing new,
Just remember this, I'm thinking about you!
Rate, Comment, Share - Go To Poem Page

This poem is about someone whom I never want to loose in my life...My love, My life, My everything......My destiny...
Three Stages Of My Love

PART 1

She is neither my girlfriend, nor my life
But she is the only one whose company I always like

Be it I am enjoying, be it I am in tension
She knows everything and I need not to mention

She cares and scolds me like a teacher
And so protects me from future disaster

Whenever I go wrong, she tries to make it right
And sometimes we do have a cute fight

She always does right with all and expects the same
And when people donít reciprocate she finds herself in vain

Sometimes she is naughty, but always caring
Sometimes she lets the things go but have lots of daring

She is just like a girl next door
Who wants love all around and nothing more

If you get a chance to talk to her once
You wonít forget her charisma for months

And finally let me tell you she is very good friend of mine
Whom I never want to lose in my life down the line


PART 2

She is always welcomed in my heart's door
I don't know, its just friendship or something more

Whatever it is, I just want to give her my best
And there is GOD to take care for rest

I wish she would become mine forever
I would give all my love to her and hurt her never

When she would understand my feelings and become mine
Then we will celebrate candle lit dine with music and wine

I donít want my decision on her to be superimposing
But thatís my idiotic way of proposing

I am eagerly waiting for her answer
Until she replies, my heart is beating like a dancer

Even if she reply with no
I wonít let the love in my heart to go


PART 3

Although she reply neither with no nor with yes
Still she is good friend of mine so pain is less

I wish her all the very best in her future life
And may she become the worldís luckiest wife

I pray to GOD to fulfill all her heartís desire
And always protects her from the human vampires

Whenever I had hurt her, may she forget
I wish, because of me, her eyes should never get wet

I donít mind, if she wonít talk to me for months
But in case of any problem, she should tell me at least once

I hope she will understand me
Her friendship is my success key

She is the drug that keeps me alive
And gives me strength to control my lifeís ride

These is some magic in her smile
That melts away my tensionís pile

So that was Ankushís little cute story
With lots of emotions and less of glory
Rate, Comment, Share - Go To Poem Page

Sometimes we find what we are not looking for, when you do and it's right for you, then accept it, give of all your love, you'll be glad you met her/him.
At first, I wasn't looking for love.
I wanted to be alone, for the rest of my life,
for I had nothing to gain, by being in love.
All I wanted to do, was, be by myself.

But, for just a moment, I began to think,
Why were you there? in my shadow of life.
Just for one second, I'd let my guard down,
your romance, with passion, kept slipping in.

I never imagined, how sweet this could be
With emotion and desire, you sucked me in.
Now, I am in trouble, but, sweet, sweet, trouble,
I could never escape, your tender love,

You're my friend and lover, all in one,
I've listened and learned , I knew it was you
A lover, to me, I gladly submit
Giving my all, to you, I admit.

I love when we chat, you make me hot,
The things you do, I'm not use to having,
So I want you to know, you're my dream come true.
I know in my heart, no one else will do.
I'm so glad, I met you!
Rate, Comment, Share - Go To Poem Page

Before I realized that the perfect guy for me was there all a long, we built a long and lasting friendship. It took us both some time to realize we were meant to be but we made it, and we've never been happier.
From the moment I saw you
It became all to clear that you were meant for me
At first you where shy
But as the days flew by I knew you were mine
As the days got shorter
And our calls got longer
It became all too clear that you had me from the start
That night you stole my heart
It took me some time to realize
But you gave me the time I needed to see
That you were my every smile
You were my every tear
You were all the things a girl could ever need
You were the boy who was meant for me
And Iíll spend the rest of my life loving you
Rate, Comment, Share - Go To Poem Page