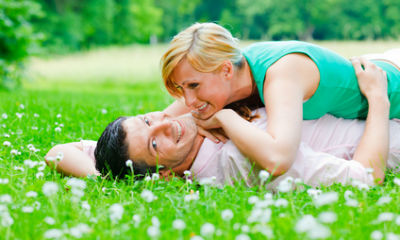 Love is universal. It unites humanity as one big family. Truly, it doesn't matter where you find yourself in the world, you will find people in love. While customs may vary, in love, nationality, language and culture don't matter. Love is something that we all desire. It forms a part of us no matter what corner of the world we come from. Sometimes two people may fall in love and even marry without even speaking the same language. That is the power love has to unite. It can unite two people or families or even nations. Therefore, let us all give our best in love. Just maybe, we can make a small contribution to the unity of the human family.
Touching Love Poems: 1-13 of 13
1
Hello! My name is Holly Tegeler Morgan and I have been writing poetry since Junior high. I was inspired to write by my English teacher at the time, ..........
Read Complete Poem

This is simply my idea of how things SHOULD be
Read Complete Poem

My first crush and heartbreak all rolled in one. Opened my eyes to the world of poetry.
Read Complete Poem

This poem was inspired from a very very special person in my life that was never to be on my side of things ....hope you enjoy it as much as I do ..........
Read Complete Poem

unfortunately sometimes we lose the ones we love the most either suddenly or gradually.... it's not how much time there is but what we do and say ..........
Read Complete Poem

I'm a young Published Author who wanted to write a poem about the love that everyone should be blessed with.
Read Complete Poem

Expressing one's sensual erotic side of a relationship only brings them closer together, if you can't find words to say how you feel, send her/him ..........
Read Complete Poem

The simple things become special because one is in Love!
Read Complete Poem

I just felt like writing, and because this girls the only thing in my head. I had to get it out=]
Read Complete Poem

I had the biggest crush, so much so that I couldn't tell him. Leaving this poem under his windshield wiper one night was as close as I got. Later, ..........
Read Complete Poem

"I will write to you tonight" But you never do! What do you mean? "Write to you tonight" Not pen and ink, Nor words I think. Touching my dreams ..........
Read Complete Poem

I wrote this poem for my boyfriend when we first got together and we have now been together 1 year
Read Complete Poem

Have your bestfriend or girl friend, and she's gone to a another country for vacation and you miss her. This is the same thing that is happening to ..........
Read Complete Poem

Touching Love Poems: 1-13 of 13
1