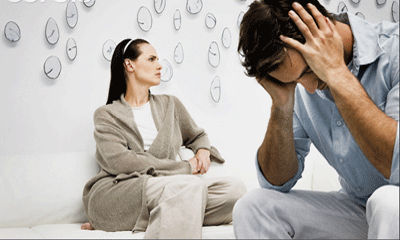 Apology and Forgive Me Poems
To forgive is divine. It is a trait that we learn from our creator. He has shown us that is possible to repent from our sins and that we can forgive others as well. Forgiveness is more than saying the words, "I forgive you". If you still harbor hatred in your heart this is not true forgiveness. In order to truly forgive you must put myself in the other person's place. You must try to understand how they could do such a thing to you. When you understand what has led them to that act, you may be able truly forgive them.
After being married for 29 years, my husband suddenly left me for another woman. Over the course of the next 8 months, we had the saddest time of our lives. My husband is now back with me and realizes we cannot live without each other. Both of us have had a ''shock'' in our lives at what we could have lost for all eternity. This poem is about how I feel about our love. We have been together since I was 15. We are very much in love, but there is still hurt and fear there.
I look into your eyes
And imprint your gaze in my memory
Not knowing if it will be the last time
You hold me so close

I breathe in your smell
And taste your skin
I turn and close my eyes
Quietly sighing a thousand sighs inside

I feel such promise when you hold me
I feel safety in your arms
I never want to leave here
But sleep a thousand sleeps

Now knowing what I lost
Makes the losing so much harder
When eventually we part
I will grieve for eternity

The second I leave you
I ache for you inside
When I see you again
My heart knows comfort

I know a love
That cannot be restrained
Unconditional and fathomless
An ocean of tears we have cried

I will never stop loving you
Never, never, never
It is all I know how to do
To love the us, the me and you
Rate, Comment, Share - Go To Poem Page

When time are tough in a relationship, try to remember the good things, they always out weigh the bad.
When times are rough and tears start to fall
when we're scared and feeling blue
remember the warmth you used to feel
with my arms wrapped around you
When things are said that shouldn't be
harsh words that just aren't true
remember the magic within the kiss
when I press my lips to you
When we argue, fuss and fight
and the blame is on us two
remember that love conquers all
the love between me and you.
Rate, Comment, Share - Go To Poem Page

You know sometimes I do not know how to stop the things I say. Quickly building a defense against what come and what may.
You know sometimes I do not know how to stop the things I say.
Quickly building a defense against what come and what may.
Confused most of the time about whatís going on.
Not sure what why when or how these things begin/begun.

At moment of fight the anger the hurt takes flight.
The feeling that you donít believe in me.
That alone I stand and even you I have to make see.
That I try so hard and most of the time Iím doing fine.
Why carry on and attack me why canít certain things just left to be.

Only knowing not wanting to proceed.
With these malicious thoughts and evil deeds.
I donít want to always feel the need
To explain to you my actions, to feel insufficient to feel mean.

I hate the person that lingers inside of me.
The one that emerges when the argument arises.
The one who looks and seeks disguises.
The one who linger and look for reasons.
The one who seems to always start the fight..

I can say sorry in many diff languages and many ways.
But you will never see what these little arguments do to me.
I can only wonder and hope that you will feel, that you will see.
How much I love you and how much to me you mean.
Rate, Comment, Share - Go To Poem Page

By Kaleilani Pilialoha Silva
If you are going to love me,
love me deeply
If you break my heart,
then break it all.
If you are going to care,
care for me completely.
If you decide not to hold,
then let me fall.
If you are going to stay,
then stay forever.
And if you want to leave,
then do it today.
And if you are going to talk,
then mean what you say
Rate, Comment, Share - Go To Poem Page

I made this poem for my ex. When people say you learn your true feelings after you loose something, you have to witness it first hand to actually believe it. I lost the love of my life and my best friend since I was three to this terrible thing called love. He was like a father to my child, my best friend, and my other half but we couldn't make things work right now. I guess later down the road we will see how things work out, but he appreciated the poem and knew it was from the heart.
You are my description of love.
You are my description of friend.
You are my description of everything.
You are my description of beginning to end.

You have put me on a pedestal.
You make me feel ten feet tall.
You've always been there for me.
You've loved me through it all.

You've stood by me through thick and thin.
You've always been patient and kind.
Just thought I'd let you know.
You're the owner of this heart of mine.

We have made if through troubles,
and are in the middle of fights,
let alone through many struggles,
but you will forever be mine.

So you ask how long I'll love you?
Well this is what I have to say:
PAST, PRESENT, FUTURE, ALWAYS,
Forever and a day!
Rate, Comment, Share - Go To Poem Page

My boyfriend and I went through a lot. He had broken up with me and I wrote this and I was going to send it to him, but we are now better then ever, so I don't need too.
I'm sorry I can't be what you want me to be
I'm sorry loving you caused you all that pain
I'm sorry I walked into your life, gave you hope but didn't fulfill your dreams
I'm sorry

I'm not sorry I met you
I'm not sorry I fell in love with you
I'm not sorry for letting you into my life loving you day after day
I'm not sorry for I have felt wonderfully loved by you

Your life will go on
mine may go on
with a big hole that will take a while to heal
in my heart
hoping that everyday the pain will ease
and hopefully go away
My love for you will never go away.....
Rate, Comment, Share - Go To Poem Page

The intense despair and longing for a second chance.
Between that trees, where our joyful moment plays as a part of endless love . You hold my hands, and we laugh together, upon a rainy day...

Darling, as the rhythm goes by with the flow of love,
All brightest moment that I've wrote, only for you,
Will it be a story of lovers between time ?,
Darling, my own heart desires for the smile of you,
Like a flower in the desert, a river that flows,
As the stars changing through the high place,
I can't help myself out of this,
Please come back to me,
We shall create another story of us,
Through the morning and ends in our heart,
Under the moonlight,
Where our hands joined together, a lover's kiss.

It's true !!
I can't live without you, baby,
Even this heart is burned under fire,
Still there is a love for you in eternity...
Rate, Comment, Share - Go To Poem Page

I wrote this poem because I have made a lot of mistakes with the best girl I will ever know, I just want her to know that I do listen and I do care and that I am sorry. N.M.
I know I made our lives a mess,
because I'm such a jerk
I know I've caused you so much stress,
and now you think I'm dirt

I know I make the worst mistakes,
we both know that is true
I know right now I have the shakes,
it's my fault cause I hurt you

I know you think I can't improve,
my actions have said so much
I know you think it's time to move,
but I can't live without your touch

I know you want a better life,
that you think I can't provide
I know you want to be a wife,
and show the world your pride

I know I really need to prove,
how much for you I care
You know I wrote this poem for you,
Babe, this to you I swear
Rate, Comment, Share - Go To Poem Page

This is to the girl I love so very much, we had our problems and split up because of me and I did some really messed up things after we broke up so I am trying to tell her in this that I''m sorry and I way another chance I''m planning on getting her a valentines card and writing this poem in it.
I know we were together for so many years.....I did you so wrong, and brought you so many tears.... If I could take it all back, without a doubt I would....

† † Go †back in time, to October 30th †2010.....apologize and tell you I love you, and that It'll never happen again.....but I can't take it back, or change what I did.......all I can ask you, is to please forgive......

† † †I love you so much, and I made a HUGE mistake......I realize it now, but it already feels too late....time has gone by, and we are seeing other people........but in my heart I know, none of them can equal.....

† † †My highschool sweetheart, the girl of my dreams......the one I grew up with, and loved through my teens.....we cuddled at night, †and laughed in the day.....baby I need you, to feel that way.......

† † †No one can compare, to the love we shared.....we knew each other intimately, we were in each others head..... I've got a lot more to say, so please give me a chance..... Please give me one last shot, at our perfect romance.....?
Rate, Comment, Share - Go To Poem Page

Guess all relationships change. We're just human. Can't get the words out just send this to whomever you need to know
I don't understand why you're this way
What did I do or what did I say

We've been together for so long
What did I do that was so wrong

A kiss A tear
It's your voice I want to hear

We don't laugh any longer
my hopes are weakening not getting stronger

After all this time what do I do
All I can say is "I LOVE YOU''
Rate, Comment, Share - Go To Poem Page