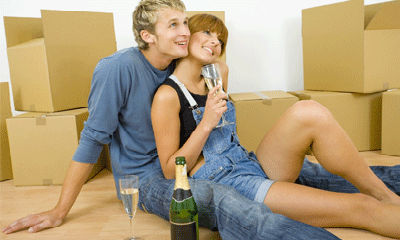 First Love Poems
There's just something about a first love that creates such profound emotions in us that we are indelibly marked by our experiences with the person who manages to steal our heart for the very first time. In fact, the memories of that special person seem to never fade. The first time we held hands, the first kiss, these are moments that are marked by an innocence and a timid sweetness that is unique to first loves and, quite honestly, difficult to describe in words. That first love, for a lucky few, may even create a bond strong enough to last forever.
I wrote this for my girl friend , she is my first girl friend and she is the first one I love, I just went to my room and locked the door, I was thinking how lucky I am to have someone like her, I just grabbed a pen and a paper I started writing how I feel for her, in my own way, and its my first poem in English.
Oh , I wonder if this is true
I wake up every morning without any clue
every time I see her my face gets red never blue
oh, is this true?
first I thought I was another boy
just like a puppet or a toy
but in the end she has given me joy
oh, is this true?
I almost stopped looking, but was said lets have another try
then I found her in a blink of an eye
I never thought I would say this but when I miss her I cry
when am with her she says, hold me, hug me, spread your wings and fly
oh, is this true?
her favourite colour is pink and black
she has everything I want with no lack
she loves to eat a chicken mac
when she goes she always comes back
oh, is this true?
I try to understand you like a chart
for us its only the start
just know I will be there and I will never break your heart
oh, is this true?
because I can't believe I am with an angel like you.
Rate, Comment, Share - Go To Poem Page

I want to dedicate this song to my boyfriend. He's my first and I love him with all my heart. He makes me feel alive and I don't know what I'd do without him.
I see the moon, shining bright in the night sky and I think of you
And all the good times, and the bad
I think of you and lose my breath thinking
How easy it was to fall in love with you

I close my eyes and I see your face
So perfect and complete
No other soul could ever compete

Because the love I have for you isnít a mystery
It may have been destiny
Maybe it was just two friends who fell in love
Whatever it is I donít want this feeling to end

I never knew it could be like this
When we kiss sparks fly
When we touch itís all but chemistry
And the look in your eyes
Send shivers running down my spine

When our lips intertwine
It stirs a fire deep down in my soul
I can feel it all the way down to my toes
Whatever the feeling
Iím glad that you are with me
Because Iím gonna love you for all time
Rate, Comment, Share - Go To Poem Page

I wrote this poem about my first love. I eventually did say I love you, and it was the beginning of a long, wonderful relationship.
Putting me up on a pedestal,
loving everything about me.
Loving holding his hand,
loving looking into his eyes.
Loving everything about him.

Long hours on the phone,
sweet kisses on the cheek.
It seems like love
but all too quick.

Skipping class
and sneaking out.
Holding hands
and walking around.
Looking into his eyes
as he looks in mine.
Knowing that I'm his
and he's mine.

Cute gestures,
and sweet sayings.
I want to say I love you,
but I fear it's too soon.

It seems perfect,
the way we are.
It's going so well,
how long will it last?
Will it be love?
I think so.
Because he's too perfect
to let go.
Rate, Comment, Share - Go To Poem Page