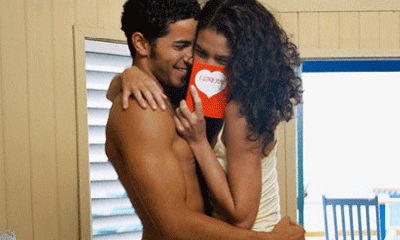 Poems for Saying I Love You
Have there ever existed three words that carry so much weight before? When we say I love you, we say so much. We may say, "you are more amazing than you'll ever know" or we may say, "nothing in this world could make me leave your side" or we may say, "you make me a better person and I want to spend my life repaying the favor". While those words should never be used carelessly, if they are left unsaid or used lackadaisically they can undo a relationship. Therefore, let us all say I love you to the person who deserves it, but never without looking deep into their eyes with all the soulful emotion love evokes.

By David L Yearwood
The connection we both have to each other, read, think, experience the feeling!
Every moment we've spent together,
Has touched our lives, our souls forever.
The things we share, the things we've done,
are permanent things we can't undo.

The person you are, heart and soul,
came to life, with emotion, desire and passion.
Because of you, I'm full of love,
it's all your fault, I'm loving you like this.

We are connected, wide and deep,
no one can remove, this connection we have.
Our feelings are blended, never to be undone,
you are part of me, forever and ever.

A part of me will always be you
and a part of you will always be me.
no matter what happens, that much is certain,
our souls are one, till that moment comes..

I will love your forever,
for worse or for better.
You are tattooed in my heart,
nothing can tear, our souls apart.

You'll always be mine,
with love and honesty, only for you!
Rate, Comment, Share - Go To Poem Page


By Howard Bright
A poem of endearing love just to say that you care.
A smile is such a lovely thing especially upon your face;
hiding all the sorrows or simply taking their place.

A kindly spoken word means so much when from you,
it comforts my weary heart or when Iím feeling blue.

A song can make our hearts dance at pretty fast paced clips
when we hear the melody of our lovesí unconquerable grips.

Words could lift my spirits and sweet compassion find;
put your hand in mine alone and peace will fill my mind.

A smile, a word, a song, a look Ė seem small little things
but when love sparks an action, what blessings they bring!
Rate, Comment, Share - Go To Poem Page

When you fall in love, it's a wonderful thing, expressing your feelings are vital and confirms your love for that person, this poem helps you do that.
When I fell in love with you, my heart was on fire,
to be with you was my one desire.
A lifetime of promises and a world full of dreams,
for only my heart knows what it means to me.

One love, two hearts, makes us complete,
now my love is lost in your heart and soul.
Honey when Iím alone, youíre the one I miss.
and your sweet tender love, is hard to resist.

Looking upon the stars, wishing with all my heart,
hoping someday, you will realize this passion I hold inside.
Honey it doesnít cost a dime. It's here waiting for you,
I feel truly blessed, this feeling is way down inside.

I know this love, will guide me, only to you,
thatís how it feels to be in love with you.
For thoughts from the heart are here for you,
words from my heart, I'll always love you!
Rate, Comment, Share - Go To Poem Page