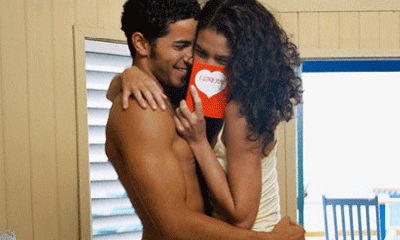 Poems for Saying I Love You
Have there ever existed three words that carry so much weight before? When we say I love you, we say so much. We may say, "you are more amazing than you'll ever know" or we may say, "nothing in this world could make me leave your side" or we may say, "you make me a better person and I want to spend my life repaying the favor". While those words should never be used carelessly, if they are left unsaid or used lackadaisically they can undo a relationship. Therefore, let us all say I love you to the person who deserves it, but never without looking deep into their eyes with all the soulful emotion love evokes.

By David L Yearwood
The connection we both have to each other, read, think, experience the feeling!
Every moment we've spent together,
Has touched our lives, our souls forever.
The things we share, the things we've done,
are permanent things we can't undo.

The person you are, heart and soul,
came to life, with emotion, desire and passion.
Because of you, I'm full of love,
it's all your fault, I'm loving you like this.

We are connected, wide and deep,
no one can remove, this connection we have.
Our feelings are blended, never to be undone,
you are part of me, forever and ever.

A part of me will always be you
and a part of you will always be me.
no matter what happens, that much is certain,
our souls are one, till that moment comes..

I will love your forever,
for worse or for better.
You are tattooed in my heart,
nothing can tear, our souls apart.

You'll always be mine,
with love and honesty, only for you!
Rate, Comment, Share - Go To Poem Page


By Howard Bright
A poem of endearing love just to say that you care.
A smile is such a lovely thing especially upon your face;
hiding all the sorrows or simply taking their place.

A kindly spoken word means so much when from you,
it comforts my weary heart or when Iím feeling blue.

A song can make our hearts dance at pretty fast paced clips
when we hear the melody of our lovesí unconquerable grips.

Words could lift my spirits and sweet compassion find;
put your hand in mine alone and peace will fill my mind.

A smile, a word, a song, a look Ė seem small little things
but when love sparks an action, what blessings they bring!
Rate, Comment, Share - Go To Poem Page

When you fall in love, it's a wonderful thing, expressing your feelings are vital and confirms your love for that person, this poem helps you do that.
When I fell in love with you, my heart was on fire,
to be with you was my one desire.
A lifetime of promises and a world full of dreams,
for only my heart knows what it means to me.

One love, two hearts, makes us complete,
now my love is lost in your heart and soul.
Honey when Iím alone, youíre the one I miss.
and your sweet tender love, is hard to resist.

Looking upon the stars, wishing with all my heart,
hoping someday, you will realize this passion I hold inside.
Honey it doesnít cost a dime. It's here waiting for you,
I feel truly blessed, this feeling is way down inside.

I know this love, will guide me, only to you,
thatís how it feels to be in love with you.
For thoughts from the heart are here for you,
words from my heart, I'll always love you!
Rate, Comment, Share - Go To Poem Page

At times we need confidence in the other persons love for our love to grow.
Light a candle,
see it glow,
watch it dance,
Just like you and me,
think of me,
like the light of love,
I'll always be close,
like day or night,

A candle flickers,
out of sight,
but in your heart,
it still burns bright,
think not of sadness,
but of me,
think of gladness,
Just you and me.

I have not left,
I am not gone,
I'm here to stay
my lovely one,
the light in my heart
will glow and grow,

Watch our lights as they truly glow like love,
in our hearts we'll always know.
That never will I leave,
even when my feeling is blue

I'm sitting here, with you in my heart,
waiting one day, for you and me!
Rate, Comment, Share - Go To Poem Page

They are times distance is a bad thing, the need to be with your love one is very strong, Time seems to make things worst, but, love will make it right!
Will I ever be the same?
the first time, my eyes met yours?
My life has changed, because of you,
I saw in you, my missing piece.

Will I ever feel your touch?
how eager I am to be near you.
I'm trying not to sulk,
my feelings, I must hold..

Will I ever be with you?
you said, some day.
I hope the time is soon to come,
for us to be together. this is my dream.

I don't know why, I love you so,
the reason is way, deep in my heart.
I'm glad we got to talk, just like this,
Are we to be? our love will tell.
Rate, Comment, Share - Go To Poem Page

if the person I love says yes otherwise it will remain....... for ever
You are the one...... I need in my life
you are the one...... made my life beautiful
you are the one...... given direction to my life
you are the one...... I opened up my heart
you are the one...... I admire most
you are the one...... I want to see happy
you are the one...... I want to hold in my arms
you are the one...... I want to see beside me
you are the one...... I want to cry with
you are the one...... I want to laugh with
you are the one...... I am waiting to come into my life
you are the one...... I want to spend my whole life
you are the one...... I cant lose
you are the one...... I miss a lot
you are the one...... love you

You are the one........
Rate, Comment, Share - Go To Poem Page

This poem is about someone I loved dearly. but as we all know things come to an end sometimes. and it did but that's ok life goes on....
My love I watch you as you lay sleeping, the stillness of your body
as it drifts off to that deep sleep.
And I look and wonder is he thinking of me, or is he having a
sweet dream.
Or is he saying my darling the one I love my love for you is more
pure and innocent than a beautiful white dove.
As I continue to watch I see the flickering of your eyes, I watch you move
and then you take a deep sigh.
Then is when I know you are sleeping soundly.
There is no movement, no sound, no flickering, no sigh.
And I look at you my darling and say I love you and good night.........
Rate, Comment, Share - Go To Poem Page

Sometimes in life you don't expect to fall in love, but, one day, love finds you, by the one you least expect.
To lay a kiss, softly on your lips,
So gentle, so delicate.
Is like picking drops of dew,
off the petals of a rose.

I hold you close, you feel so safe,
sheltered from the rain.
Storms that grow, surrounding us, we fear,
I take your hand, keeping you safe.

I see a heart of gold, your soul so pure.
You see, you are an angel, an angel to me.
I could not help, but fall madly in love,
you are the one who stole my heart!
Rate, Comment, Share - Go To Poem Page

My eyes will continue looking at your beautiful face
Your smile is shining with hope that will never stop
You kindly soothe my pain with your warm embrace
As you feel my pain when you taste my tears that drop

I would give you my soul, if you asked me to
I would give you my time, my future, and my life
I would sacrifice for you, like you sacrificed too
I would care for nothing, as long as you're alive

I wish I could repay you, for all the things you gave
for the times you stood by me when I needed you the most
for the times I wronged you, and you kindly forgave
for the times you patiently walked with me, when I felt lost

baby I feel like crying when you come on my mind
I feel helpless, helpless, to thank this great endless Love
you are always, forgiving, so patient, and so kind
You're a human with an angel's heart, sent from above
Rate, Comment, Share - Go To Poem Page

I wrote this poem when my parents has came to know that I had a boy friend. With all the moves they made just to take us apart though they succeed but still we find time to meet and never give up. They almost forced me to be with someone which I never knew in my whole life. I love my boy friend so much but I don't have a choice. It was against all odds.
The more I am fallen for you
The more I am petrify
As I know and you know
We both made a wrong opt

We should not love each other
Let cease it while from the start
Ours is a forbidden love
Surely dilemmas would crop up

If I am just free to choose
No bounds and fences to care
As how's the birds free
To choose trees to dwell on

Surely, I will choose you
To be with me every seconds
As I know I love you
before I meet you

Word that I'd utter to you alone
Only you, I swear
I'd rather stay numb than
To love someone and not you.
Rate, Comment, Share - Go To Poem Page