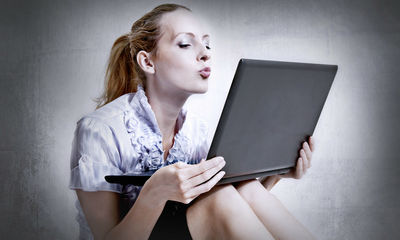 Let's face it, long distance relationships are difficult. But the fact is, love doesn't care about area codes. Sometimes you find that perfect someone lives in another city, state, country or continent. And while it's not easy maintaining a relationship through phone calls, texts, emails and video chats, long distance relationships do have their benefits. For example, there aren't many things more romantic than being reunited with the one you love after being separated for some time. Distances create longing, desire, a yearning to be in the physical presence of that special person, something others might find lacking in their relationship. Though long distance relationships require more work, it is precisely for that reason that they can be incredibly rewarding.

By Jessica Phelps
My "Best Friend" has been in jail for 3 years now. I cannot wait for him to come home. He is the one person that truely makes me happy.
There's something in your voice that makes it all alright,
Something in your smile that gets me through the night.
A comfort in your grin that helps my day pass by.
A twinkle in your eyes that lights my darkened sky.
Your posture says "don't worry" and your laugh, it says "I care".
That kiss you blow when we say goodbye that says "I'm always there".
It's all these things about you I couldn't live without.
It's you that makes me happy, it's you without a doubt.
Rate, Comment, Share - Go To Poem Page


By Scoots Ramirez
Words from a man, for when a woman wonders what he's thinking when they hang up.
"When you text me, I can't seem to open the text fast enough to read it.
When you call me, I fumble my phone in a rush to answer.
When I talk to you on the phone, I want to reach through and caress your beautiful face.
When there's silence on the phone, I want your phone to be my lips kissing your ear.
When you speak, the rest of the World is silent to me.
When we hang up, I stare at your name on my phone and I smile.
So before I close my eyes to begin my sweet dreams of you, I hold my phone close to my heart, and hope that all my love for you will keep us connected."
Rate, Comment, Share - Go To Poem Page

This poem I wrote to my bf letting him know that I really do miss him when I'm not with him
If I say the words I miss you....
Does it just become a meaningless phrase?
or does it have sentimental values that last for more then just a few days.
Do your knees go weak when the words have been said,
the goose bumps, the chills, none you regret
Who could imagine that 3 little words
Could have such an effect and make you feel like love birds
Well I will admit and I will agree
That the words "I miss you" means a whole lot to me
And right now I want everybody to know
I miss my sweetie, and I'm never letting go...
Rate, Comment, Share - Go To Poem Page

I am in a long distance relationship of about 350 miles, better measured in smiles. I knew from the moment I saw him that he would be worth every lonely night I'd have to spend without him. He works in Wisconsin for a hospital up there and I live in our hometown. We knew from the beginning that one of us would have to make a sacrifice eventually. We are working on those details, but he will soon be making his way home to me and I will be here, waiting patiently.
Lost is the girl
With the lonely smile
She waits for her love
A long and weary mile
He stole her heart
Before she'd even seen
He'd be her prince
And she'd be his queen
Though far away
She knows in her heart
A connection between them
Cannot be torn apart
Born to love him
All of her life
She awaits his return
With no grief or strife
Love brought them near
And will see them to the end
Together they'll be,
Their distance time will amend.
Rate, Comment, Share - Go To Poem Page

I wrote this poem to describe that my life has been like a journey and how I've always walked alone in the dark. Then I find some form of ''light'' which I use to describe as my ''love'' for this girl. However because we live so far away, I claim that I'm heading in the right direction now to reach my destination meaning the day we re-unite or marry. In essence, the moral is that time can never erode your true love.
Through the darkness, there came a light
Though so far but yet so bright.
I close my eyes and look deep insight..
I walk this darkness without a fright.

I clutch this image like a precious sight,
The one that sets my heart alight.
I hold that thought and now I write,
With the thought of us on this night.

I travel this road to find affection
I now edge closer and taste perfection.
The darkness evades, I've found protection
I reach this light to build my connection.

My strength has now so briskly grown,
I no longer feel I travel alone.
I continue to proceed on this empty path,
The wait is long but I show no wrath.

The star may seem so far away,
I set fourth my travels to meet that day.
I hold my faith and wait these years,
So far I've come, its worth those tears.

I stand, I sit and now I stare,
I look beyond me and see you there.
I've found the light and now I smile,
I've found my strength to crawl this mile.

I accept love like its my treat,
The thought is real, I'm now complete.
I hear sweet voices in my head,
They say my path is clear ahead.

Some just try but yet they fail,
The unconditional love that we prevail.
I had my freedom, I made this choice,
I found my love, I now rejoice.

I never believed I'd find this love,
Like that beautiful star from above.
I questioned love and what I feel
With you I learnt my love is real.
Rate, Comment, Share - Go To Poem Page

Love knows no distance, we must make the distance shorter, express how you feel, what you want, express your desires, needs and wants, love can be that real feeling!
My love, how much I want to be there with you,
To feel your touch and see your smile.
To hear you say, I love you so,
For all the ways you'll show me how.

O my love, I long to be with you,
O my love, words will never express,
The feelings I have for you inside,
I'll give my all, just to be with you,

being in your arms, safe and sound,
to see your tender smile again.
Holding me softly, with your tender touch,
being ever so close and never apart.

O my Love I need You so,
my soul is on fire.
My passion and emotion is here for you,
with much desire, I just can't explain.
My heart is ready to surrender all.

Come to me, I'm ready for love,
I want it to be, that special time!
Rate, Comment, Share - Go To Poem Page

It's hard to be away from someone you love, and it's def hard on me to be away from him.
I light up when you're here
and when you're gone
my heart disappears
so I lose myself in our songs

I listen to the words that are us
and I float to your arms
and it's there that I trust
I will never know any harm

we have ups and downs
but we have something rare
we fight off each other's frowns
and no one has what we share

at times I cry so much
needing you next to me
needing your touch
it hurts so much it kills me

you shine brighter than any star
and your heart is what I love most
and I hate that you're too far
because I need you in my arms so

to take your heart and heal it
to hold you and kiss you
my love, I want you to feel it
until then, I'm always with you
Rate, Comment, Share - Go To Poem Page

When I first met my fiance, he had to go away to work for 3 loooooong months. It was very hard but made us stronger.
I love this man who is away from me
and I think I've ruined us with my jealousy
it's not the way I want it to be
I am my own worst enemy

I love this man who is not around
to pick me up when I am down
to shut me up when I say too much
he's just not here for me to touch

I love this man more than anyone ever
and it scares me as we've not long been together

I know that we both have a past
and I know that I have to get over that fast
I love this guy and I want us to last
as I know that we both will have a real blast!

So I love this guy who is not here
and the love that I feel is very rare
and even though he is not near
my love is with him everywhere.
Rate, Comment, Share - Go To Poem Page

Hi everyone, this is a poem written on the basis of our love who is not near us, but yet we can feel his presence everywhere. sometimes in life we feel we are missing someone and there are special ways to enjoy that feeling. some people make themselves busy, some of them write poetry. I am one of them. when we cannot say something we express in terms of words. It is surely going to touch your heart.
When I look into your eyes, I see the belief you had on me,
When I touched your hand for the first time, I felt the trust you had on me,
When I used to walk with you, I feel my journey to be complete,
When I hug you close to my heart, I can listen to your silence,
When I talk to you, I feel I am free from all bondings,
Nothing to loose, nothing to gain,
Just be in your arms and feel your warmth,
The soft care of your touch,
Make me feel I m the only one in your world,
We are far apart but I can feel your existence everywhere,
Now and then, in the wind, in the trees, in silence, amidst the woods,
And solely in my soul which is lonely without you,
In my mind, my eyes,
Which is always in search of you,
I know I am far away,
But not so far,
that you cannot hold my hand,
in your whispers,
If your eye's are upon the stars,
in the crystalline darkness,
I'll become the moon,
And the light shall guide you,
If you rest upon the ground,
in the warmth,
I'll become the grass,
And embrace you,
If you turn outside,
in the wetness,
I'll become the rain,
If you free in the air,
amidst the sunny day,
I'll become the sun,
And smile for you,
Kiss your forehead,
And tell you,
just sense me and I'll be there,
I know I need you and I'm missing you,
but I want you my love to be with you,
Only with you,
Forever and ever after.
Rate, Comment, Share - Go To Poem Page

I was inspired to write this when visiting a place we had been together. It stirred some lovely memories.
I sit on our hill
There is silence, except for the breath of the world
It caresses the leaves softly
Tenuously, as I imagine my hand would touch your face

It stirs dormant memories
Precious baubles fill my consciousness
A smile, a laugh, a caress, a scent
Your touch, your embrace, your kiss

The Autumn sun warms my face
Awakens me
As I walk away, eyes closed
I can feel your hand in mine
Rate, Comment, Share - Go To Poem Page