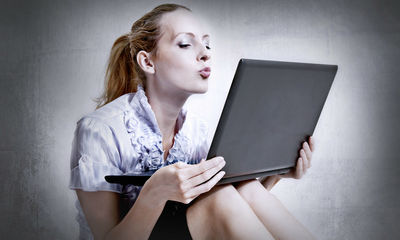 Long Distance Relationship Poems
Poems about Long Distance Relationships
Let's face it, long distance relationships are difficult. But the fact is, love doesn't care about area codes. Sometimes you find that perfect someone lives in another city, state, country or continent. And while it's not easy maintaining a relationship through phone calls, texts, emails and video chats, long distance relationships do have their benefits. For example, there aren't many things more romantic than being reunited with the one you love after being separated for some time. Distances create longing, desire, a yearning to be in the physical presence of that special person, something others might find lacking in their relationship. Though long distance relationships require more work, it is precisely for that reason that they can be incredibly rewarding.

By Jessica Phelps
My "Best Friend" has been in jail for 3 years now. I cannot wait for him to come home. He is the one person that truely makes me happy.
There's something in your voice that makes it all alright,
Something in your smile that gets me through the night.
A comfort in your grin that helps my day pass by.
A twinkle in your eyes that lights my darkened sky.
Your posture says "don't worry" and your laugh, it says "I care".
That kiss you blow when we say goodbye that says "I'm always there".
It's all these things about you I couldn't live without.
It's you that makes me happy, it's you without a doubt.
Rate, Comment, Share - Go To Poem Page


By Scoots Ramirez
Words from a man, for when a woman wonders what he's thinking when they hang up.
"When you text me, I can't seem to open the text fast enough to read it.
When you call me, I fumble my phone in a rush to answer.
When I talk to you on the phone, I want to reach through and caress your beautiful face.
When there's silence on the phone, I want your phone to be my lips kissing your ear.
When you speak, the rest of the World is silent to me.
When we hang up, I stare at your name on my phone and I smile.
So before I close my eyes to begin my sweet dreams of you, I hold my phone close to my heart, and hope that all my love for you will keep us connected."
Rate, Comment, Share - Go To Poem Page

This poem I wrote to my bf letting him know that I really do miss him when I'm not with him
If I say the words I miss you....
Does it just become a meaningless phrase?
or does it have sentimental values that last for more then just a few days.
Do your knees go weak when the words have been said,
the goose bumps, the chills, none you regret
Who could imagine that 3 little words
Could have such an effect and make you feel like love birds
Well I will admit and I will agree
That the words "I miss you" means a whole lot to me
And right now I want everybody to know
I miss my sweetie, and I'm never letting go...
Rate, Comment, Share - Go To Poem Page