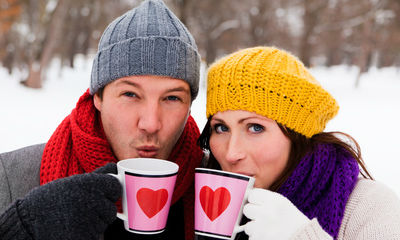 Valentines Day Poems
Your Valentine is your lover. Valentines Day is set aside to celebrate love. There's love and romance in the air. Everywhere you go there's chocolate and candy. If you don't have someone to share your love with, this may be a day to stay in bed. Or it may be the day to make that call that you have been thinking about for a long time. If you're miserable about not being in relationship, get out of bed, pick up the phone, and do something about it.

By April Quinlan
I wrote this poem for my loving Husband, CJ, for Valentines Day, and I think it says it all.
Our souls were one when time began.
When God was busy creating both earth and man.

Then came the day He tore us apart,
Forever making us, each others, "split apart".

He chiseled your name upon my heart,
Before sending us down for our lives to start.

Years would go by and the hour grow late,
Destiny beaconed and called upon fate.

Life came full circle for our two souls to meet.
We take not for granted this miraculous feat.

For God had a plan at the beginning of time,
That would bring our hearts together rejoining your soul and mine.

Once what was one, was made into two.
I know in my heart, I'm not complete without you.

Now what was made two, has again become one.
Just as we were even before time begun.

--April M. Quinlan
Happy Valentines Day CJ
February 2011