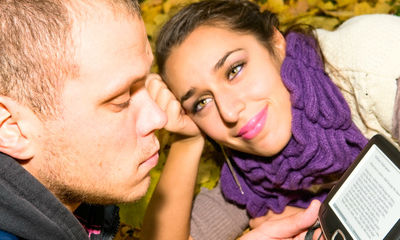 Rhyming Poems About Love
Poetry is power. Poems have the ability to create emotions out of words. Through poems a simple sheet of paper can change the way you think and feel. The artistic ability to craft a rhyming poem that turns words to music and can leave you feeling that your very soul has been laid bare is pure genius. Art is often inspired by love, so it is no surprise that when you couple the force poetry has with a person's most intense emotion, love, you have created something that will resonate, perhaps forever, in the deepest part of one's being.
This is a poem of how I felt for the man I was in love with a great deal. He inspired me and opened my mind to so many things that I never experienced.
A love like yours, is hard to find,
A life with you, I wouldn't mind.
I sometimes wonder where I'd be,
If you hadn't came & set me free?

I'm sad at the thought of being apart,
And ecstatic to know, I'm in your heart!
There's little to teach, and a lot to learn,
From a man like you, I'd wait my turn.

With a heart so big, to comfort all,
If help was needed, you'd be the first I call!
You've opened up doors, to which were dark,
Your a beautiful person, whose made your mark...

Your mark in this world, and definitely on me,
I think we compliment each other to a tee!
I know true love will set all else apart,
And you'll be forever & the only.. one in my heart!

Love has no boundaries, love does not judge,
Love doesn't hurt, love will not hold a grudge.
Love is special and unique to each,
Love works in mysterious ways, but life lessons it will teach.

It's not what you think, or what you "did,"
Its the positives you made, and the negatives you rid!
12/29/2009
Desiree Sanders