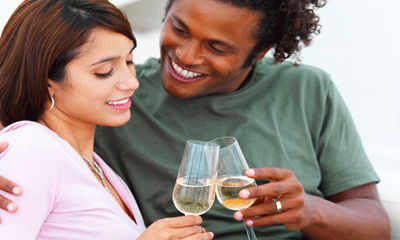 Short Love Poems for Him and Her
Strong relationships are characterized by people who make their significant other feel appreciated. Sometimes though, our daily routine becomes so hectic we forget this important aspect of successful relationships and begin to assume our companion feels valued. We must constantly reassure each other of the love and appreciation we feel. We must learn what touches that special person's heart. Short love poems are a perfect way to remind someone what we feel for them. Since they are short, they are memorable. They can remind someone why they fell in love, strengthening the bond that can so easily become weakened in today's unloving world. So get inspired! Write something short and sweet for the one that means the most to you.
Short Love Poems: 1-9 of 9
1

By Courtney Lea Braswell
I am now 18 and in love with my boyfriend. I plan to be a first grade teacher. I love kids, shopping, and being with my boyfriend.
You are the wings of my heart
in the past I have been torn apart
You picked me back up to my feet
and now my heart has a steady beat
never more will I cry
because you have helped me spread my wings and fly
Rate, Comment, Share - Go To Poem Page

I am a 21 year old from India. I like reading and writing poems. This is a poem written after a true incident.
Your coming,
Like the first drops,
Touching the thirsty earth,
Creating a music,
Heard by the souls,
Opened by love,
Makes me smile beyond.
Rate, Comment, Share - Go To Poem Page

This is about a boyfriend who I was madly in love with. I love writing poems when I have good inspiration.
I love you more than I love myself.
I love you more than life itself.
I love you so much you couldn't possibly understand.
I will love you forever and always.
Till death due us part.
I will love you till the moon doesn't rise and the sun doesn't set.
Please just remember that I will love you forever.
Rate, Comment, Share - Go To Poem Page

I wrote a short poem to make the man I love feel better on a hard day at work...it was off the top of my head. I sent it in a quick response to a text message. Sometimes we need to remind the ones we love just how much they are in our thoughts.
You are the reason I get up every morning and smile,
the reason I sing when I'm alone,
the reason I sleep soundly as a child,
You, are the reason I've found home.
I love you, without reason.
Rate, Comment, Share - Go To Poem Page

About my first love.
I never felt this way,
The way I feel with you,
A love that is so true,
I'm just really happy it's with you.
Rate, Comment, Share - Go To Poem Page

For the love of my life. You mean the world to me.
Wherever you go
Wherever you are
Near or far
Together or apart
You will be forever
IN MY HEART!!
Rate, Comment, Share - Go To Poem Page

this is what i would hope to see in a guy when I find true love!
The way you look into my eyes
And the warm feeling
you make me smile
No matter what happens
I know I can count on you
to be there for me
through the thick and the thin

I know that I can tell you anything
and you'll help and support me
You don't judge me on only my looks but,
for who I really am
for me
and me only
Rate, Comment, Share - Go To Poem Page

Love is difficult to keep alive forever
Love is just like a flower
when the time is right
it opens all doors to your heart
when you start to think it will last forever
it always starts fading away slowly
you try to do everything you can
just make it last one more day longer
Rate, Comment, Share - Go To Poem Page

This poem reflects the sweet-tasting kiss of a husband and wife.
Let our tongues mingle
In a lover's tonic;
Let them dance whimsically
In the breeze
Of our slow, heavy breath
Rate, Comment, Share - Go To Poem Page

Short Love Poems: 1-9 of 9
1