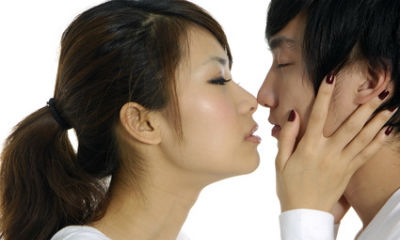 It can be disheartening looking for love. This is because love is not something you can force. Sometimes there is someone who catches your eye but they don't feel the same or the timing just isn't right. In fact, it's impossible to look for love, you can only wait for it. These are not reasons to give up on love though. The best relationships seem to just happen. If you keep your heart open to love, love will eventually find you. Hold out for the right person at the right time and it will be worth the wait. You will have found something invaluable. Once love has found you, treasure it and work hard to keep it.

By Lauren Krupinski
I got the idea to right Angel in Flames, because out of all of the poems I have written, I have never written one about my family. My Dad is a firefighter, and I worry every time he leaves to go to a fire that he won't come home. I know how hard it is to be married to a man always in the line of danger, because my Mom has to go through it every day. There are so many people who lose a loved one suddenly that we never forget to tell my Dad good-bye before he leaves.
We met under candle light,
dancing across eyes,
a hidden passion burned brightly
released in each sigh.

We married unknowing,
what our future would hold,
that passion was a mystery,
I had never been told.

My angel in flames,
standing brave and tall,
lived to save others,
whenever the call.

When he was needed,
neither of us would know,
but he would always be ready,
to leave me and go.

He was strong,
in both name and in heart,
his life of protecting,
established at the start.

It brought tears to my eyes,
watching him from the bay,
to take one look back at me,
then start away.

I thought that my angel,
would be sent for just me,
but to watch over all,
was how it must be.

I cradled his life,
with a deep, tender love,
but there comes a time,
when you must release that dove.

One day he left without a kiss,
leaving my heart broken and sore,
I thought he had finally returned,
But it was a priest at my door.

My angel in flames,
I often sit and wonder why,
that one day you left me,
and didnít say good-bye.
Rate, Comment, Share - Go To Poem Page


By Spencer Castro
What is this strange feeling?
It is strangely familiar.
The warmth has me singing,
"Lord please just let me see her."

Everything about her feels right,
She knows I'm hiding in my walls.
Stuck in my dreams at night,
If I'm not careful-I'll surely fall.

Whatever it takes I will have her,
Nothing will lead my mind astray.
I cannot let distance be the factor,
That lets this dream get away.

I hope she feels the same,
Ways I feel about her.
Don't let this be for shame,
Do not add to my curse.
Rate, Comment, Share - Go To Poem Page


By Samantha Vandervoort
After suffering from a broken heart, I met an angel that helped me out of my sadness.
Before you, I walked this world alone,
Carrying the greatest loneliness ever known,
Prayers of mercy turn my heart to stone,
Forsaken by the Creator feeling disowned.

Capturing my hurts with all my might,
Only to set them free in the quiet of the night,
Forbidden thoughts with no light in sight,
Accepting my fate I gave up the fight.

Creator took pity on my heart he set me free,
He heard my cries he heard my pleas,
He showed me the greatest gift there can ever be,
Broke the curse and sent a sacred gift to me.

You are my night sky,
Feelings like this I cannot deny,
Now it's tears of gratitude that I cry,
You are the one I will faithfully stand by.

When I look into your eyes I can feel your love,
My beautiful angel sent down from above,
Your the guardian warrior that I dreamed of,
A love like ours is more pure than the dove.
Rate, Comment, Share - Go To Poem Page


By R.S. Mallari
From a barren desert in to a lush forest
From a dried creek in to a mighty river
This is what you have done to my life

From a dark cave on to a green meadow
From a cold realm in to a dazzling castle
That is where you have taken me

From the dungeon to the open world
From a commoner becoming a King
That is what you made of me

From being undone, you made me whole again
From a resigned in to a hopeful one
Because of you, I am back to being a man

A King I have become
A Queen you shall be, thee I will serve
Kingdom of love will be our home

Only this I ask of you,
Do not let go and say goodbye
If you do, that will be the day Iíll die
Rate, Comment, Share - Go To Poem Page

The love that may never be.
I would move the largest mountains
I would leap the highest buildings
I would tame the wildest animals
I would capture the sun and the moon
I would brave any kind of danger

All for You

But I do not yet have the courage
To do what you want of me most

To give you up
Rate, Comment, Share - Go To Poem Page

I wrote this poem when I was up in the morning. I hope you like it.
Take up that courage you have
if you know the story of courage
journey to a truth
you never had,
see the light and the dark
see heaven and earth
and find the courage to rise higher
know you're going to see seasons
with trees, flowers, and creatures
and know this is your blessing
when you can see life,
and be roses amongst life
while you are knowing living is better than dying
and you can believe life is page of color
so look at all life's beautiful colors
what do you see,
hasn't it been fun to love rather than suffer
and see life is like a painted canvas
made by life's art,
and life's an inspiring heart,
so while you continue to cross life's richness
know you're an eyewitness.
Rate, Comment, Share - Go To Poem Page

Sitting here staring at the computer screen,
moments shared flashing across,
bringing me to the past,
your face resurfaced in my mind.

Listening to soft instrumental music,
memories built swirling around,
tugging at my heart insistently,
your warmth and gentleness hugged me.

Pausing all my actions in mid motion,
images locked unfolding once more,
stirring bittersweet emotions,
your presence never left me.

Shuffling among the good memories,
open conversations stimulating my heart,
reaffirming my love for you once more,
your sincerity kissed my soul.

Smiling sweetly at no one,
visions created mingling happily,
filling me up with hopes and wishes,
your future links intricately with mine.
Rate, Comment, Share - Go To Poem Page

Always express to your sweetheart in romantic terms what you feel and see in that person, it can be the strength in the relationship.
What I see in you, are Oceans of love,
Colourful rainbows and morning dew.
I see goodness and beauty, all over you,
you're bursting with love, with red hot flames.

Creatures of darkness prowling the night,
I'm safe in your arms, as you hold me tight.
I feel your breathing, as it enters my soul,
you whisper to me, I get chills up my spine.

I can hear the rain, it's romantic and pours,
I feel your embrace, your touch tingles me.
I'm happy with laughter, smiling with joy,
with you my love, tomorrow I see.

I feel thunder and lightning, whenever your near,
I hear voices of love, you bring to my ear,
but all these things, this world may bring,
Its your love I cherish, above everything.
Rate, Comment, Share - Go To Poem Page

when I wrote this poem I was think about what my friend had asked earlier that day. She had asked me "What is Love?" I wanted to answer her, but I could not explain in word of mouth so I wrote this for her. The day I was going to show her was the day I found out she had past away during a shooting. Her name was Samantha Meerbott and this poem is dedicated to her.
Love is a gentle touch
with a hint of passion and
a soft sprinkle of lust.
Love is trust.
Love is holding hands ever so gently
under the moonlight.
Love is trust.
Love is staring so intently into
your lover's eyes with the feeling that
it is so right.
Love is a sweet walk in
the park with that special someone.
Love is pain, pleasure, and
everything in between.
Love is trust.
Love is loving and caring for that
certain someone in a very special way.
Love is remembering how
sweet they are.
Love is the peace and joy you feel
when you are with
the one you love dearly.
Rate, Comment, Share - Go To Poem Page

Friends and friendship are the two things we can't live without, it is the glue that keep our lives together, true friends are for ever, you can be my friend!
We have something, that holds us tight,
Something we like and treasure together.
Something called, being a friend,
we have blended, nice and tight.

We can't be undone, that's the way it is,
We're going through this life, side-by-side.
Nothing, or, no one, can come between us,
this is the way it will be, we agree.

I really want for you to know,
even though, we are so far apart,
I'll never stop being your friend.
This is the way it will be, I know.

And, you're my one and only true friend,
That's here to stand, by my side.
With lots of love, you give to me,
remember this, at every time, you are my friend!
Rate, Comment, Share - Go To Poem Page